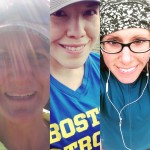 In this episode of Ultra Ordinary Running Podcast, we describe the origin of this project a little more in depth (which you can also read about on Melissa's blog), we briefly discuss winning a date with Billy Yang, we offer some strategies for running through the holidays (or not), and we share our Christmas wish lists.
Have a very merry holiday season! We'll be back next time with a recap from Rob and Melissa's adventures at Across the Years.
Thanks for listening.
Angela's Twitter: @angelmurf
Angela's Blog: https://silverliningstrong.wordpress.com/
Christina's Twitter: @arunningmess
Christina's Blog: http://www.arunningmess.com/
Melissa's Twitter: @melissa_raguet
Melissa's Blog: http://www.clothmother.com/
Music: Happy Rock from www.bensound.com