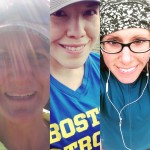 We just hit record and started going. Usually this is the kind of life/training conversation we have before we start the show. But this time it is the show. Enjoy!
Here are some things we talked about:
Melissa's Howl At The Moon race report
What the heck is a rossiter?
Also: watch and subscribe to Christina's new Vlog here! She has got seriously great stuff!!
And now for our usual links:
Angela's Twitter: @angelmurf
Angela's Blog: https://silverliningstrong.wordpress.com/
Christina's Twitter: @arunningmess
Christina's Blog: http://www.arunningmess.com/
Melissa's Twitter: @melissa_raguet
Melissa's Blog: http://www.clothmother.com/
Music: Happy Rock from www.bensound.com