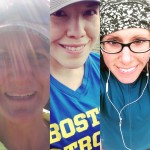 In this episode of Ultra Ordinary Running Podcast, the three of us are at different stages in our training. Melissa is recovering from Across The Years, Angela is putting in the miles and focusing on strength and core work, and Christina is tapering for her upcoming 50 miler.
Join us as we chat about what we've been up to during the past week, and if you are a coyote expert, please drop us a line to let us know once and for all what to do when we see or hear coyotes on trail, and also: what is the proper pronunciation of "coyote."
Thanks for listening!
Here is a list of some of the websites we mentioned in the show:
Across The Years 24 hours results (women are the top two finishers!)
Denny Krahe Training Plans and Diz Runs Podcast
Ultra Ladies 100 Mile Training Plan
Angela's Twitter: @angelmurf
Angela's Blog: https://silverliningstrong.wordpress.com/
Christina's Twitter: @arunningmess
Christina's Blog: http://www.arunningmess.com/
Melissa's Twitter: @melissa_raguet
Melissa's Blog: http://www.clothmother.com/
Music: Happy Rock from www.bensound.com