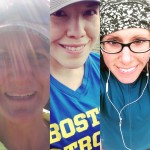 In this episode of Ultra Ordinary Running Podcast, join us for a Monday Rant about pre-race anxiety. We talk about the difficulty of remembering why we signed up for the race in the first place once the big day draws near.
Everybody, please send Christina your very best wishes for Miwok 100K this weekend! It's going to be great!!
Thanks for listening!
Angela's Twitter: @angelmurf
Angela's Blog: https://silverliningstrong.wordpress.com/
Christina's Twitter: @arunningmess
Christina's Blog: http://www.arunningmess.com/
Melissa's Twitter: @melissa_raguet
Melissa's Blog: http://www.clothmother.com/
Music: Happy Rock from www.bensound.com