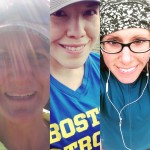 In this episode of Ultra Ordinary Running Podcast, Christina shares the details of her race at Miwok 100K. In short, there was vertical, more vertical, beautiful trails, some weather, and a seriously awesome goody bag. We predict that after listening to this episode, you'll be putting your name in the hat for Miwok next year.
Here's Christina's race report.
Congrats, Christina, on a great race, and as always, thanks for listening!
Angela's Twitter: @angelmurf
Angela's Blog: https://silverliningstrong.wordpress.com/
Christina's Twitter: @arunningmess
Christina's Blog: http://www.arunningmess.com/
Melissa's Twitter: @melissa_raguet
Melissa's Blog: http://www.clothmother.com/
Music: Happy Rock from www.bensound.com