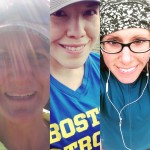 After a 7-month hiatus, WE'RE BACK!!
Thanks, listeners for your emails and tweets asking us to come back 😉
Join us for this episode as we talk about topics including: mountain lions, bears, dyslexia, heel/ankle issues, shoes, caffeine, smoothie recipes, and plans for the future!
If anyone is interested in checking out Melissa's charity run for dyslexic children, here is the link: https://www.gofundme.com/charity-run-for-dyslexic-children. Thanks to everyone who has already donated!
We've missed doing these shows and are glad to be back. Thanks for your support!
Angela's Twitter: @angelmurf
Angela's Blog: https://silverliningstrong.wordpress.com/
Christina's Twitter: @arunningmess
Christina's Blog: http://www.arunningmess.com/
Melissa's Twitter: @cloth_mother
Melissa's Blog: http://www.clothmother.com/
Music: Happy Rock from www.bensound.com