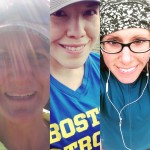 We're getting the band back together again, AGAIN.
Thanks to the friends out there who asked us to come back 🙂
Join us this holiday season as Christina recaps her recent Javelina 100K run and the three of us catch up on what our pandemic running has been like. Life sure has changed a lot since we last had a chance to chat.
We've missed each other so much and we've missed doing these shows. It feels good to be back. Thanks for your support.
Angela's Twitter: @angelmurf
Christina's Twitter: @arunningmess
Melissa's Twitter: @cloth_mother

Music: One Fine Day from Keep Calm and Podcast https://www.podcast.co/music