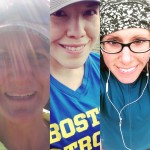 In this episode of Ultra Ordinary Running Podcast, we have Rob and Melissa's race recaps from Across The Years!
Find out what it's like to run for 24 hours while trading off childcare, encountering below freezing temperatures, and possibly falling asleep in a porta potty.
Rob and Melissa want to thank everybody for listening and for the good wishes they sent during the race.  Aravaipa Running puts on a fantastic event, and we hope to see you all at ATY next year!
Here is Melissa's very extended race report that's so long probably only her mother will read it:
http://www.clothmother.com/2016/01/across-years-part-2.html
Angela's Twitter: @angelmurf
Angela's Blog: https://silverliningstrong.wordpress.com/
Christina's Twitter: @arunningmess
Christina's Blog: http://www.arunningmess.com/
Melissa's Twitter: @melissa_raguet
Melissa's Blog: http://www.clothmother.com/
Rob's Twitter: @ragfield
Rob's Blog: sexyhermit.com
Music: Happy Rock from www.bensound.com